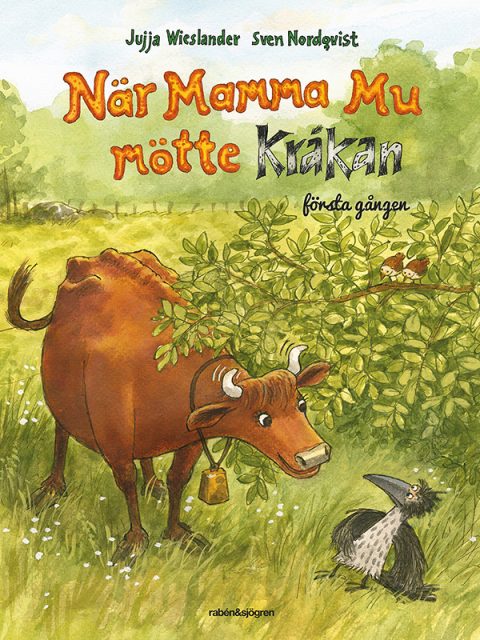 The first time Mamma Moo met Crow
Text: Jujja Wieslander
Illustrations: Sven Nordqvist
Rabén & Sjögren 2020
Mamma Moo made a great leap over the fence.
"Oh dear, there's a little bird laying here," she said.
She sniffed it.
"Is it dead?"
The bird sat up.
"What ARE you doing?" he croaked. "I'm not a little bird. "I happen to be Crow!"
"And I happen to be Mamma Moo," said Mamma Moo with a friendly smile.
Because this was the first time that Mamma Moo had met Crow.
Jujja's comments about the book
For many people, Mamma Moo and Crow have 'always been there'. And when these characters came into being on children's radio towards the end of the 1980s, the ideas came from songs that had long been with us and the children. Quite simply, Mamma Moo and Crow just started to live lives of their own. She wanted to learn how to ride a bike and there he was in the forest who, somewhat reluctantly, was the one who helped push. That's really how it all began.
But one of the children kept on nagging, "Sure, but what happened the very first time?" OK, a more dramatic opening scene was clearly needed. So here you are, here comes that story. And what more appropriate way could there be to celebrate that tale than with a birthday party?